Toronto House Prices At Risk Of 'Severe' Correction, OECD Says, But CIBC Begs To Differ
11/13/2015 | SHARE
Posted in Real Estate Market by Ron Hyde| Back to Main Blog Page
Canadian housing is overheating and Toronto's housing market is especially at elevated risk of a "severe correction" due to an oversupply of condos, the OECD says.
But CIBC thinks the international organization is "barking up the wrong tree."
In a new report, the group calls on Canada's incoming new government to cool down the housing market, calling for "further tightening" of the mortgage market.
As options, the OECD suggests reducing the minimum down payment on a mortgage or lowering the percentage of income a borrower can spend on mortgage payments.
"At the national level, housing starts are running at the higher end of demographic requirements and housing investment is robust," the OECD said, as quoted at the Globe and Mail.
"In Ontario, and especially Toronto, economic activity has been relatively buoyant and demand by foreigners has been boosted by the falling Canadian dollar. That said, newly completed but unoccupied housing units have soared in Toronto, increasing the risk of a sharp market correction."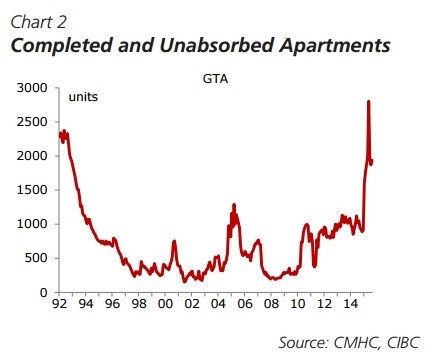 This chart from CIBC shows unsold condos in Toronto hit their highest level earlier this year since the city's last housing bust in the early 1990s. However, the number quickly began to descend again.
In a report issued Monday morning, CIBC disputed the OECD's assertion that too many condos have been built in Toronto.
CIBC economist Benjamin Tal notes Toronto saw the number of unabsorbed units triple at the start of this year, to around 3,000 from the 1,000 level that had been the norm for several years. But since then, unabsorbed condos have declined sharply, to around 2,000.
It's "clearly higher than it was a year ago, but without the drama," Tal says.
And Tal suggests that problems selling condos seems to be concentrated among certain specific projects.
"Almost one-third of all unabsorbed units in the GTA are concentrated among only four developers (out of 77)," he wrote.
All the same, Tal concedes that house prices in Canada today are dependent on continuing low interest rates, and those won't last forever.
"The GTA's condo market will be tested as interest rates start rising in the coming years, and increased resale activity from domestic condo investors will result in excess supply and some downward pressure on prices," Tal writes.
"But for now, those who look at the rise in unabsorbed units as a sign of increased vulnerability are barking up the wrong tree."
Condo Sales Toronto, Home Sales Toronto, Toronto Condo Oversupply, Toronto Real Estate, Toronto Residential
Thinking of buying or selling a property, or have a question regarding the real estate market? Fill out the form below and I'll get back to you promptly.